Resonac HD Singapore Pte Ltd (RHDS) took pride in kick-starting its journey towards Sustainability Transformation (SX) since early 2021.
This is in line with the long term vision shared by Resonac Group, which pledged to work on realizing carbon neutrality by 2050 as an embodiment of "a company that contributes to a sustainable global society". We will also steer our direction to achieve the targets established under the Sustainability Vision 2030.
Locally, RHDS has formed the "SX Committee" which aims to lead the company towards Environmental Sustainability. Going forward, the committee has identified three major areas to focus on:
1. Expedite Energy Conservation
Minimize Electricity & Water Consumption
Reduce CO2 Emission
Attain ISO50001 Certification
2. Employ Renewable Energy
Generate & Utilize Solar Energy
3. Build a Green & Clean Environment
Engage in Environmental Volunteer service for the local community
Promote Eco-friendly practices in the company (eg. 100% eliminate use of disposable containers & cutlery)
Create a Green environment in RHDS
RHDS SX's Achievements in 2022
1) Environmental Volunteer Service
A) Volunteering our service at Jurong Lake Gardens
RHDS SX Committee has worked with the National Parks Board of Singapore (NParks) to initiate a voluntary program for our staff to participate in the maintenance and development of Jurong Lake Gardens. This program is in line with the Singapore Green Plan 2030, launched by the Singapore government in 2021. It seeks to rally bold and collective actions to tackle climate change challenges.
Jurong Lake Gardens, being one of Singapore's new national gardens, is located in the western region of Singapore. Being in close proximity to RHDS (about 6km distance), this program provides an opportunity for our staff to participate in green activities and appreciate the importance of creating a green and clean environment. This also provides an excellent opportunity for the company to contribute back to the local community.
Since 2021, we have started volunteering our service at the Jurong Lake Gardens and have established a close working partnership with NParks.
Some of the activities RHDS have participated in include:
(i) Development of the Therapeutic Garden in Jurong Lake Gardens
The Therapeutic Garden consists of two sections – one designed for adults and another for children, with features specially curated for seniors with dementia and children with conditions such as mild autism and ADHD. We feel a great sense of achievement as we are not only contributing to a greener environment but also help to create an outdoor environment catering to the well being of residents with special needs.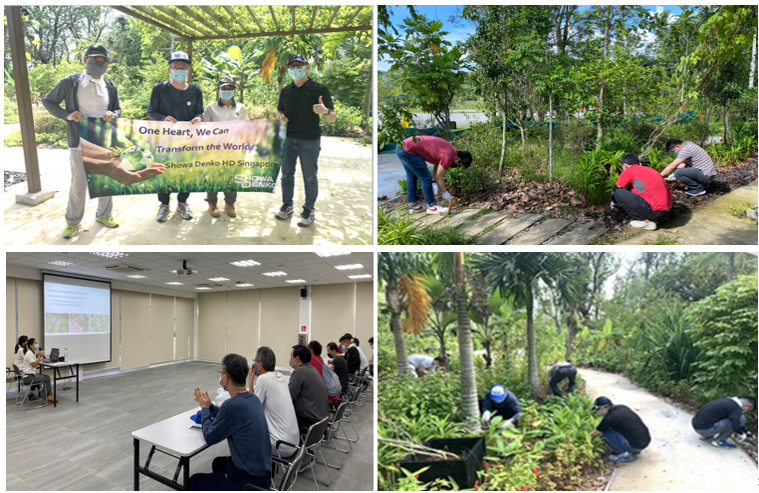 (ii) Maintenance of the Allotment Gardens in Jurong Lake Gardens
The Allotment Garden offers 300 gardening plots for the public to lease and grow their own greens. The aim is to connect the public to the community garden and promote the idea of a sustainable green environment. We are honored to be able to play a part in supporting this meaningful scheme.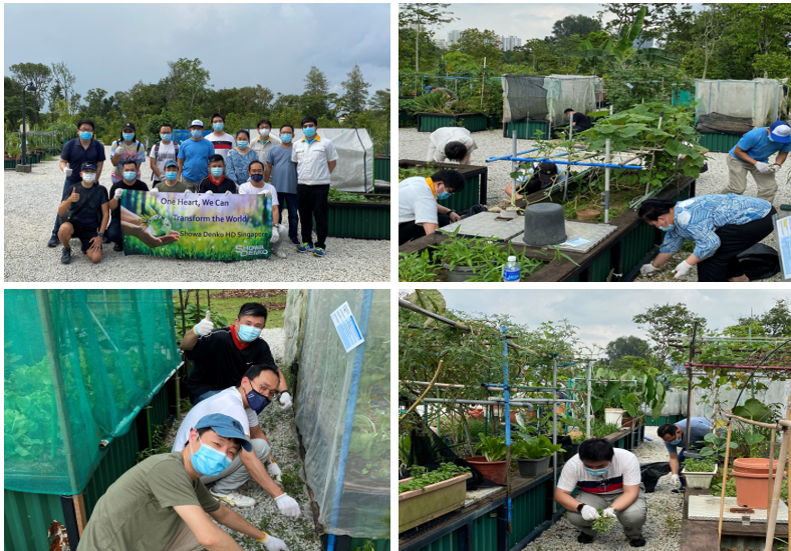 (iii) Added a new garden next to the Gardenhouse in Jurong Lake Gardens
Gardenhouse provides a community space where visitors can gather for activities like gardening workshops, nature appreciation talks, and crafts for children. With this newly added garden, we hope that more residents will be able to visit the Gardenhouse to participate in more activities, hence promoting a sustainable environment in the future.
B) Participating in Project Blue Wave (PBW)
Besides working with NParks in our Environmental Volunteer Service, the SX Committee of RHDS has also worked with the People's Association (PA) to participate in their "Project Blue Wave" (PBW). PBW is an initiative to bring Singaporeans together to build a sense of ownership of our environment through education in marine biodiversity and environment conservation. One of the signature activities under PBW is the Kayak N Klean programme, which combines water sports with environmental conservation. Our staff participated enthusiastically in the programme by kayaking and picking up trash from Jurong Lake at the same time.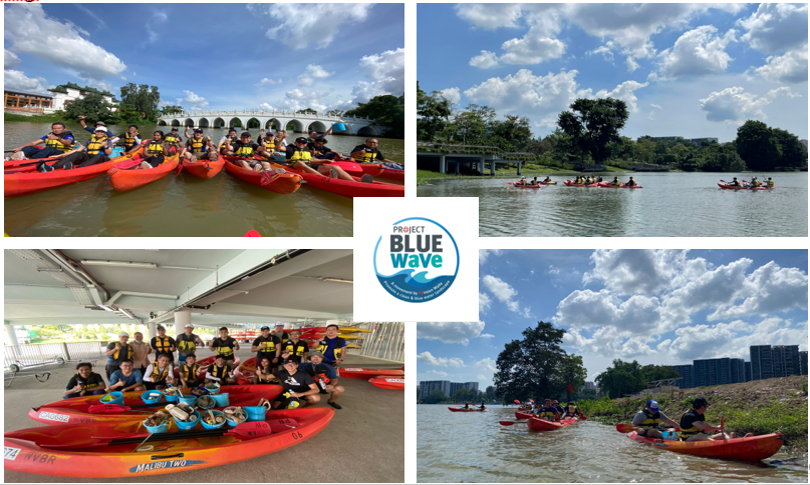 2) Created a "Green Canteen"
RHDS created a "Green Canteen" in 2022 by putting in place the following initiatives:
1. Eliminated usage of LPG gas in kitchen & implemented 100% electric cooking
Objectives:
Reduce CO2 Emission. LPG gas used in our kitchen contributed to 10% of total CO2 emission in 2021 (as shown in the chart below).
Improve safety & reduce fire hazard in the kitchen
Avoid possible higher carbon tax in near future. The current carbon tax calculation in Singapore is only based on Vertral usage. However, the usage of LPG gas may be included in the tax calculation in the future. Furthermore, our tax rate will increase progressively from the current S$5/ton to S$50~S$80/ton by 2030. It is therefore crucial to take proactive action to achieve business sustainability in the long term.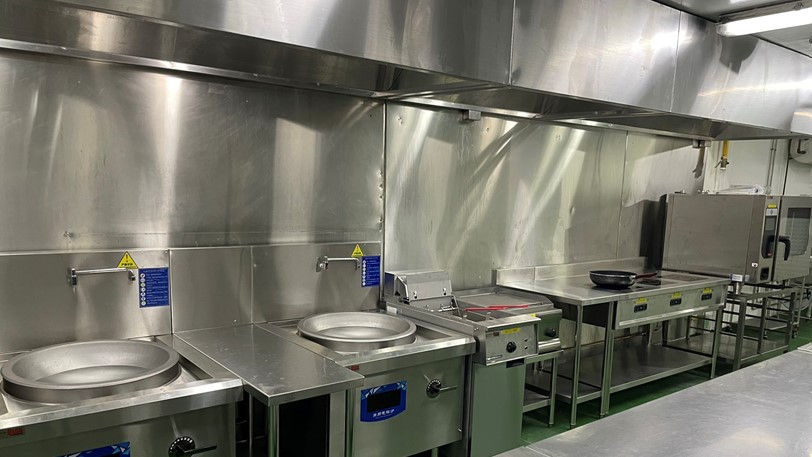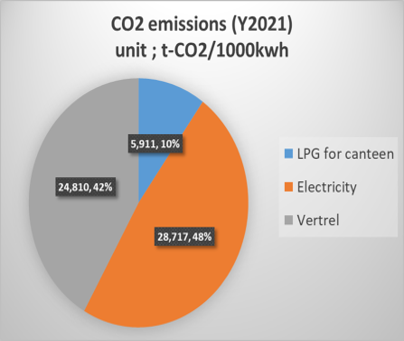 2. Eliminated usage of all disposable containers & cutlery in our canteen
RHDS has stopped the usage of all styrofoam containers & plastic cutlery in our canteen within 2022
Issued each staff a wheat straw BPA-Free container cum cutlery set which is 100% biodegradable
In doing so, we have contributed to Environmental Sustainability & Biodiversity Conservation. As we know, Styrofoam and Plastic are harmful to our environment both during their manufacturing processes and after use. They are not biodegradable products and it takes hundreds of years for them to decompose. Without proper disposition, they are a threat to our wild animals and marine life.
3) Attained ISO 50001 Certification
1. In early 2022, RHDS has set a target to achieve ISO 50001 to enhance our Energy Management System which will help RHDS to continuously reduce our energy use, and therefore our energy costs and ultimately our greenhouse gas emission.
2. An ISO50001 Steering Committee was setup to achieve the following:
Assist RHDS in making better use of our existing energy-consuming assets
Promote energy management best practices and reinforce good energy management behaviours
Assist facilities in evaluating and prioritizing the implementation of new energy-efficient technologies
3. An Energy Policy was established and communicated to staff at all levels. This sets a clear direction for all employees in RHDS towards efficient Energy Management and thus enable (will enable or enabled?) RHDS to attain smooth certification.
4. With our "One Team" spirit, RHDS has attained our ISO 50001 Certification in Nov 2022 with no major and minor non-conformance. This enabled us to be more confident in our ability to achieve a higher level of energy efficiency through a well established Energy Management System. With reduction in energy consumption, we aim to further reduce our CO2 emission and create a greener living environment for the society.